Our Tales from the South Pacific
| Milford Track | Sheep Station | People | Travel | Bungee Jump | Rarotonga | Itinerary | Travelogs
We've long had New Zealand at the top of our list of travel destinations but have held off on a trip until after retirement when we could spend enough time to really explore it from top to bottom. As it turned out, the wait also gave us a chance to share the experience with Rob and Karmel, who joined us for two of the weeks of our trip Down Under.
We have never talked to anyone who hasn't enjoyed their travels in New Zealand. The scenery in spectacular, the people are warm and friendly and the locals speak English . . sort of. The country is made up of two islands, is about one thousand miles from the top of the North Island to the bottom of the South Island and is only a couple hundred miles across and so is relatively easy to cover in a couple of weeks. We took a month.
Arriving from Los Angeles non-stop into Auckland, Val and I spent the first few days driving north to the Bay of Islands before returning to Auckland for a two day train journey down to Christchurch, where we met Rob and Karmel with whom we spent the next two weeks touring the South Island by car. Our travels together included a five day hiking adventure in the Milford Sound, two days on a sheep station and a drive along the glaciers and mountains of the West Coast. Leaving the kids again in Christchurch, Val and I spent our final week in New Zealand ferrying back to the North Island and then returning to Auckland with stops at Hawke's Bay , Lake Taupo and the thermal geysers and hot springs of Rotorua. Our return flight home was capped by a four day layover in Rarotonga, a tropical island located in the South Pacific two thousand miles north of New Zealand.
It's hard to list all of the many highlights of our trip but, if we had to reduce them to a Top Ten List, it would certainly have to include:
The Milford Track. Enjoying an international reputation as "the finest walk in the world", the Milford Track is a three day, thirty three mile hike which runs from Lake Te Anau to the Milford Sound on the Tasman Sea through rain forest, over a mountain pass and past scores of waterfalls, rivers and lakes. To protect the environment, the park service limits the number of persons starting the trek to just sixty a day. Once on the trail, however, it was not unusual to hike for hours without seeing any other trekkers making it a true, wilderness experience.
Meals and accommodations are provided at the end of each day at remote but surprisingly comfortable bunk house lodges along the way. The first day involved a two hour boat trip across Lake Te Anau to the first night's lodge or base camp. The second day was a relatively easy ten mile walk through a beech forest along the Clinton (no, not Bill) River, with numerous river crossing on rope suspension bridges.. The third day was the tough one up and over the 3,700 foot McKinnon Pass. ( It may not have been Mt. Everest, but there was a great sense of exhilaration for all of us when we finally reached the summit). The final day was the longest trek, mostly downhill through lush rainforests to the Milford Sound, where a boat was waiting to shuttle us to our final overnight lodge.
They bill the trek as a "challenge to many walkers" and it was that . . . not just the Alpine climbing but the track surface itself which varied from well-formed paths, to steep rocky declines, climbs over rocks and tree roots and occasionally fording rivers during heavy rain. But it was a great adventure and now that the blisters and muscle aches are only memories, we're really to do it again.
Milford Track Trail End - 33.5 Miles Sheep Shearing
Sheep Station Stay. At the recommendation of our friends, the Hinikers, we booked a two day homestay at a sheep station near Dunedin with a very friendly and hospitable couple, Brian and Enid Brydie. Their sheep ranch consisted of nine thousand sheep (out of the sixty million in the country) on thirteen hundred acres of rolling hills five miles from the nearest town. In addition to feeding us some great farm meals, they introduced us to the wonderful but tough world of raising sheep by giving us their own sheep shearing, dog working and wool spinning demonstrations and taking us to a neighboring ranch for some serious shearing. Shearers make one N.Z. dollar ($ 0.60) per sheep and can shear two hundred or so in a nine hour day of back breaking labor. A top shearer can do four hundred a day and the record is something over seven hundred . . . but still a tough way to earn a living.
The economics for the rancher aren't much better. A sheep costs forty dollars, is shorn twice a year, yielding about five pounds of wool at two dollars a pound. This may be more than you need to know about the wool industry except that it has not been an easy life in recent years. So the Brydies supplement their income with home stays and selling home-knit sweaters and we felt fortunate to be able to share their lives for two days.
Bed and Breakfasts. The overnight stays in the New Zealand Bed and Breakfasts were, in and of themselves, a highlight of our travels. In additional to our stay with the Brydies, we stayed at five or six other bed and breakfasts along the way including a charming, turn-of-the-century stone home outside of Christchurch, a restored castle near Dunedin and a beautiful country house near Hastings. Over and above the intrinsic charm of these unique accommodations, we found B & B stays to be a nice way to meet some of the locals and to get their recommendations on the areas.
Kiwis. The New Zealanders are among the most friendly and outgoing people we've ever met in our travels. Always ready to help and just chat, they seemed to be particularly anxious for our comments and approval of their country and seemed almost surprised that we would travel all this way to visit their country. One even asked me at one point how I'd heard of their country! They're also some of the most physically active and adventurous people we've known. Their idea of a Sunday afternoon's fun is to put on their hiking boots and run a four hour race up one side of a mountain and down the other. And, of course, this is the land of Edmund Hillary (of Mt. Everest fame) and the first bungee jump.
Maoris. The Maoris share the island with the Kiwis, make up about 15% of the 3.5 million population of the country and were there long before Captain Cook arrived in 1769. We found them to be very attractive and friendly people who, like other minority groups, are struggling to maintain their cultural identity while, at the same time, integrating into the larger society. We had an opportunity to learn a little about their culture at traditional Maori dinner ("hangi") and show in Rotorua, which began with the ritual greeting ("haka") from a tribesman, who shook his spear, waggled his tongue and rolled back his eyes to "welcome" us. We're thinking of trying it on our next dinner party here at home.
A less touristic and for that reason, perhaps, a more memorable encounter with the Maoris occurred on Roratonga as we walked to church, when a large Maori woman, wearing her Sunday dress and large straw hat, drove up in her truck and offered us a ride to her church. Although the congregation and language were predominantly Maori, we were made to feel very welcome and, in turn, were treated to some of the most glorious hymn singing we've ever heard.
Travel By Air. When our primary means of travel wasn't by boot leather, our transport was divided into travel by land, air and sea. In addition to our twelve hour, trans-Pacific flights on Air New Zealand, we had a couple more exciting small plane rides in the Fjordlands. On the second night of the Milford Track, Rob and I went up in a small plane to revisit the mountain pass we'd crossed that day and to reconnoiter the next day's trek. The runway at the lodge was about as wide as our driveway and not much longer but the pilot was able to get us in and out and through some spectacular mountain passes without any difficulty. Then on the final day, we all flew out of Milford Sound on a twenty seater again over some magnificent mountain scenery enroute back to Queenstown.
Travel By Sea. With most of the New Zealanders living within fifty miles of the sea, it's not surprising that boats are a primary means of transportation. We had a number of boat rides including our two crossings of the Cook Straight between the Islands, a cruise on a mail delivery boat in the Bay of Islands, a harbor cruise in Auckland, a boat ride to some Maori rock carvings on Lake Taupo and a cruise through the spectacular fjord scenery of the Milford Sound. The most unusual boat ride was a water powered car ferry near our sheep ranch where the only power was supplied by the river current, which was used to "steer" the ferry along a cable from one side of the river to the other. And the most exciting would have to be the jet boat ride up the Shotover River at Queensland in which the boat driver's goal was to see how close he could come to the rock cliffs at maximum speed without taking our heads off.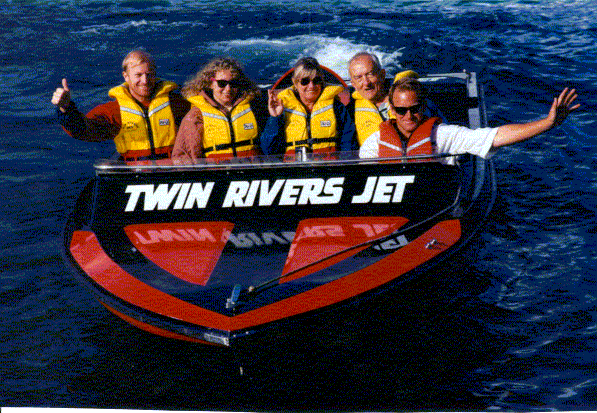 Travel By Land. The train ride the first week down the length of the country was a wonderful way to introduce ourselves to the country in the relative luxury of their Tranz Scenic trains which, with their large, picture windows and comfortable seats, are clearly geared to the tourists. The first day's trip from Auckland to Wellington took about ten hours. The second day's trip, following a morning ferry crossing to the South Island took another seven hours down to Christchurch and, all-in-all, would have to qualify in our top ten list of great train rides we've taken around the world.
But the greatest mode of travel of all was just jumping into our rental car each day and taking off (down the wrong side of the road) to parts unknown. The roads were two lane but fine, the traffic was generally quite light and every curve was a picture and every hour a totally new kind of scenery. We put over two thousand miles on our rental cars and enjoyed every mile of it.
Rob, Karmel and Other Rare Birds. Certainly, the chance to spend two weeks with Rob and Karmel was a highlight for us. They're fun to be with and ready to do just about everything including, as we found out, tie a rubber band around their ankles and dive off a bridge into a roaring stream one hundred and fifty below. It was obvious that it was inevitable for Rob when we drove into Queenstown past the Kawaru Bridge, the site of the world's first commercial bungee jumping. Karm took a few extra moments to think about it before signing up but then preceded her husband off the bridge platform in a perfect swan dive. Both seemed to take it pretty much in stride . . . maybe it was Karm's high school diving championships and Rob's one-time sky diving experience . . but I know that my heart is still in my throat when I think about it. They have a full-color video of their jumps in case you ever want to see it.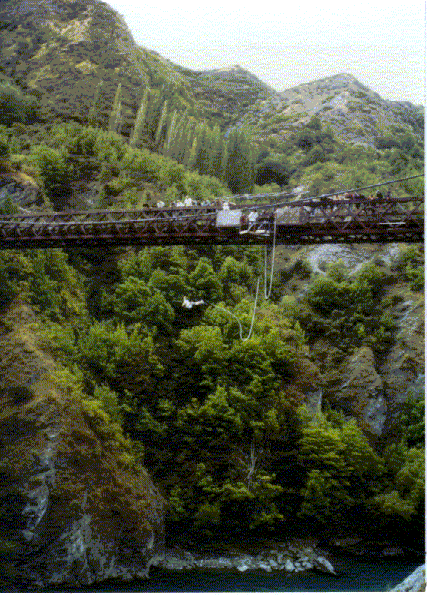 Other less dramatic but equally rare birds we saw in our travels were the nocturnal kiwi bird, the aggressive, parrot sized kea birds, which went after our lunches and even our boots on the Milford Track, ostriches, penguins, yellow-eyed mynah birds, which have killed off all the other birds on Rarotanga and taken over the island and, most thrilling of all, the only land based colony of albatross in the world, where the giant sea birds come to nest and raise their young, who then take off to circumnavigate the oceans for the next three years without ever returning to land. Strangely, New Zealand has no indigenous mammals or, for that matter, snakes on their islands.
Rarotonga. Air New Zealand offers one free layover on the trans-Pacific flights to one of several South Seas islands. We chose Rarotonga in the Cook Islands about three and a half hours north of Auckland by air and located as far south of the equator as the Hawaiian Islands are north of the equator. Rarotonga is a true tropical paradise, a volcanic island surrounded by a coral reef and blue lagoons, twenty miles in circumference and with a population of only ten thousand people. Somewhat off the beaten path compared to the more popular Tahiti or Fiji, it is more like the island scene of twenty years ago.
| | |
| --- | --- |
| | |
We stayed in a small resort complex on the east end of the island and, through a stroke of good fortune that was never explained, our accommodations were upgraded to a luxury villa complete with two bedrooms, two baths, kitchen, living room and verandah. Although we did venture out a couple times for a tour around the island and for church, we were content to spend most of our days on the beach . . . sunning, snorkeling and swimming. It was a glorious way to end our month long adventures in the South Pacific.
The transition from the sun and sand back to the ice and snow was a bit abrupt but, as always, it was nice to return home. It occurred to us as we were flying back that it was a year ago this month that we retired. It's been a busy and fun filled first year and, if this it what retirement is all about, it's not a bad life at all.