Italy (2001)
A Villa in Umbria
In the fall of 1965, our family moved to Italy. Jill was 5, Rob was 4 and Marnie was 6 months. In the fall of 2001, we rented a villa in Umbria for a holiday with Jill, her husband, Trevor, and her two children. Isabel was 5 and Miles was going on 4. It was like going back in time . . .to thirty six years ago.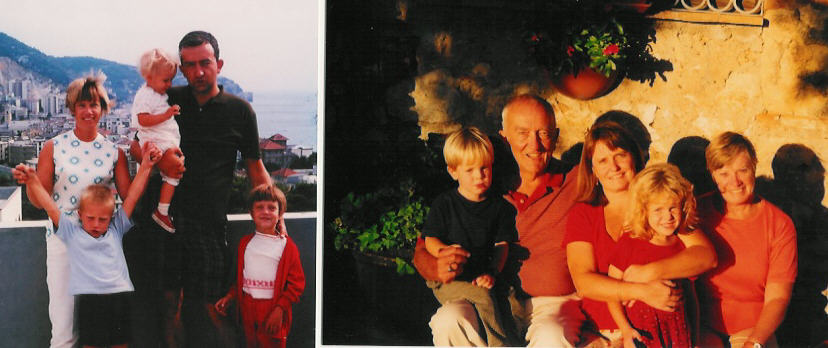 Our Villa - Spotorno - 1965 Casa Gigia - Umbria - 2001
Casa Gigia Our rental villa, which was known as Casa Gigia, was located in the Italian province of Umbria about seventy five miles north of Rome. Known to the Italians as the "Green Heart of Italy", Umbria is the only province which doesn't touch the sea or another country. Perhaps less discovered than Tuscany, its better known neighbor to the north, Umbria has many of the same charms but without as many tourists.
To reach it from the Rome airport, we drove up the autostrada for about an hour, eased off onto a provincial road and finally wound our way up past a small, two store village with the unlikely and inappropriate name of Schifanoia (annoying smell) to a winding dirt road which ended at the front gate of Casa Gigia, which was to become our home for the next two weeks.
Our villa was a two hundred year old farmhouse located on a ten acre tract, surrounded by vineyards and olive trees and nestled into the remote Umbrian hills. It was one of a number of similar properties in Italy which have been refurbished in the last ten or twenty years as vacation rental homes. Our farmhouse still had it's original massive stone walls, tiled floors, fireplace, beamed ceilings and red tile roof. It's three upstairs bedrooms and large kitchen and living room on the ground floor provided more than enough room for our family of six. We spent much of our time, however, out-of-doors on the grounds which included a large patio area, a grassy lawn and a very nice extra … a 15 by 30 foot swimming pool . . . all of which were well maintained and filled with flowers in every corner. It didn't take long for us to make Casa Gigia our home.

Casa Gigia
We also quickly settled into an informal routine which alternated between day trips to nearby Umbrian hill towns and stay-at-home days reading by the pool and hiking through the nearby woods and fields. The start of each day followed a certain routine, too. At the first crack of dawn, the absolute and total silence of the night was broken by the crowing of a rooster at a nearby farm. (You may be interested in knowing that Italian roosters don't say cock-a-doodle-doo; they say ki-ki-ri-ki). This was eventually followed by the barking of dogs in the village or the bleating of the sheep at a nearby farm and finally the tolling of church bells across the valley. We also on occasion heard the sound of shotgun blasts as the locals went out in the early morning for birds and small game for their tables. Several mornings we also picked out the crack of rifles which we learned later were hunters in search of the wild boars which lived in the nearby forests and which frequently found their way onto the menus of the local trattorie. And finally, there was the patter of little feet as Isabel and Miles came down the hall and jumped into our bed for an early morning story or two. All-in-all, I can't imagine a more wonderful way to start the day.
Our landlady lived a half mile away and other than the several occasions when she brought over phone messages (the villa had no telephone) or brought over a large bowl of tiramisu for Isabel's birthday, she left us pretty much alone.
Italian Cuisine. Dining is, of course, a center point of any Italian experience and we ate out almost every day giving us a chance to try out many of the local trattorie as well as some restaurants in the larger towns around the region which featured Umbrian specialties like strangozzi (a local pasta made without eggs), cingiale (wild boar) and the highly prized regional truffles. It also allowed us sample the better Umbrian wines like Orivieto (white) and Sagrantino (a wonderful red, which is unfortunately not distributed widely outside of Umbria). One of our best meals was in an improbable, little trattoria which we stumbled upon in the nearby village of Ortricoli, where the ravioli ai tartufi (with truffles) and the scaloppini ai funghi (porcini mushrooms) topped off with a fresh local while wine poured from a keg was to die for and all for less than fifteen dollars a person. I might mention that, although young Mr. Miles didn't learn a lot of Italian words, he certainly learned the word "ravioli" which was his consistent response to the waiters in every restaurant we visited.
Actually, we didn't have to eat out to eat well . . .with Trevor assuming the primary chef's role for our dinners at home. Unlike our experiences of thirty years ago, when we had to buy our meat, bread, cheese and produce all in different shops, we were surprised to find an American-style super market in the next town, which had everything we needed and, of course, all the wonderful varieties of pasta, cheeses and wines that made the shopping experience such an exciting adventure. And like thirty years ago, the stores still didn't carry peanut butter but we were all happy to again substitute for it with Nutella , a chocolate-flavored spread which our kids grew up on and which Isabel and Miles loved as well. With all of these varieties of fresh ingredients, Trevor worked his culinary magic in the kitchen on a number of occasions.
At home, we ate most of our meals outside on the patio . . . a great place to start the day. It was, however, an even nicer place to end the day with a happy hour and dinner on the patio in the soft, slow twilight . . . watching the sun go down and the sky dissolve in deep pinks and purples over the distant hills in a long , lingering Umbrian sunset.
Excursions. None of the well-known Umbrian towns were more than an hour's drive from our villa which made for easy day trips for all of us. All the towns were located on the top of large hills. Most were centered around a large cathedral which could often be seen from great distances. Many were walled cities that dated back to Roman and even to Etruscan times.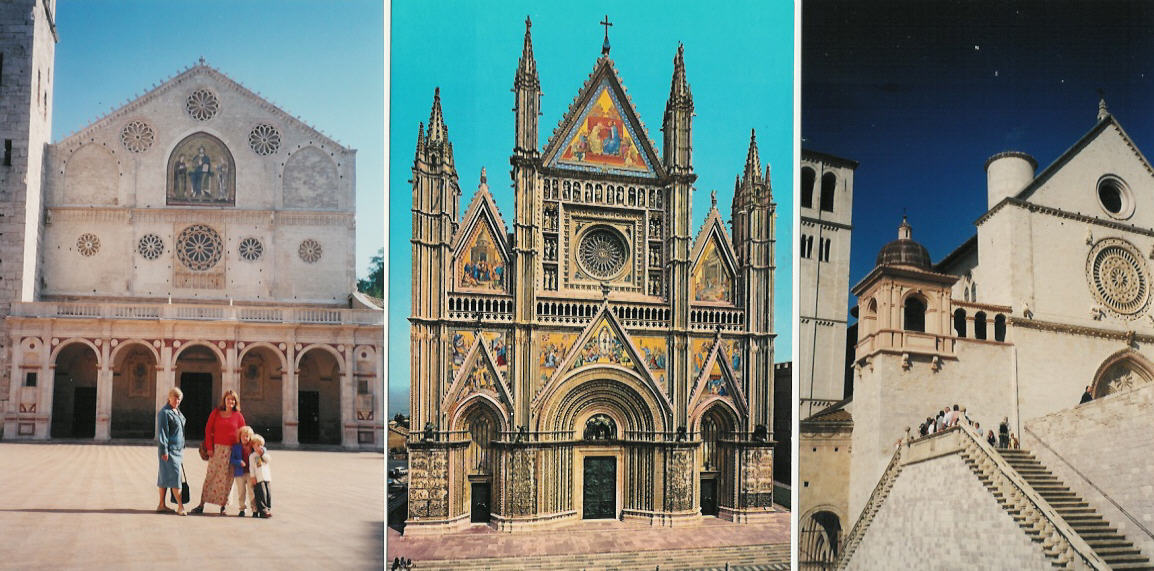 Spoleto Orvieto Assisi
Our excursions took us to: Narni, an old Roman town dramatically located high above a deep ravine and fifteen minutes from our home; Orvieto with one of Italy's greatest cathedrals, visible for miles around, with its dazzling and colorful mosaic facade; Tarquinia, with its recently discovered Etruscan tombs with their unusually well-preserved, painted walls depicting life in the Etruscan times (7th century BC); the Cascata delle Marmore, one of Europe's highest, most beautiful and most photographed waterfalls . . . when it's running. Strangely, it only "falls" for a few hours on the weekend, while the rest of the time the river is diverted through a bank of hydroelectric generators. It was an amazing sight to watch the great falls reduced to a trickle as the faucet was turned off. Only in Italy!
In our second week we visited: Todi, another charming central Italian hill town with its gorgeous setting and some exceptional medieval palaces lining its central piazza. Todi has been named in a U.S. university survey as "the most livable city in the world"; Assisi - Umbria's most famous town and one of its loveliest. It is the birthplace of Saint Francis and, naturally, for the Saxtys from San Francisco, it was a must-see visit; Spoleto, home of the annual "Festival of the Two Worlds", which we attended back in the 70's; Deruta, where many of the well-known and colorful Italian ceramics are produced. So, although we covered a lot of ground , we did leave a number of other great Umbrian tourist sights (ie. Perugia, Gubbio) for next time.
Perhaps not surprisingly, since we were less than a hundred miles from Rome, we came across numerous Roman remains everywhere we traveled. The famed Roman road, Via Flaminia, which runs from Rome to the Adriatic, passed only a mile from our villa. We found a towering Roman bridge built by Caesar Augustus (Narni), a Roman aqueduct (Tarquinia), a subterranean Roman forum (Todi) and Roman house (Assisi) and a Roman amphitheater (Spoleto) all of which brought home the sense of history all around us.
Birthdays and Old Friends. We celebrated two important birthdays during our stay in Italy . . . Valerie and Isabel's. Valerie chose to mark her birthday with a drive to the coast and a swim in the Mediterranean. With the beach season pretty well over, we had the beach to ourselves and enjoyed our swim in the familiar waters of the Med. Isabel, on the other hand, celebrated her sixth birthday with a big pool party complete with balloons, crepe paper streamers and a big gelato cake and was joined by Paolo and Rita Tavella and their two children, who came up from Rome to spend their weekend with us. The Italians may have been a bit puzzled by the three-legged races and pin-the-tail-on-the-donkey but they joined in with enthusiasm.

Isabel's 6th Birthday - Casa Gigia Valerie's Birthday - Mediterranean Sea
We were also joined at Casa Gigia by some of our oldest and dearest Italian friends . We've known Gino and Sandra Rossello and Mario and Silvia Tavella since our first days in Italy back in 1965. We've gone on trips with them, watched our kids grow up together and hosted each others children in Italy and Minnesota long after our family returned to the States.
Gino and Sandra drove down from Milan to spend a day with us and Mario and Silvia did likewise from Rome a few days later. In fact, Valerie and I capped our Italian holiday with a weekend in Rome at Mario and Silvia's home, where we took a stroll down the nearby Appian Way and saw a ballet at the majestic Rome opera house. The highlight of the weekend was a visit to the site of a World War II battleground not far from their home where Mario as a seventeen year old Italian paratrooper fought in the defense of Rome. Since I had recently translated his war memoirs into English, it was an emotional and poignant visit for all of us.
In somma (as the Italians say), it was hard to believe that thirty six years have passed since we first came to know and to love Italy. Our holiday in our villa in Umbria proved to be a marvelous chance to recall and to relive old memories. It also gave us an equally marvelous chance to create a many, many, happy, new memories.