Greek Islands (1996)
Aegean Odyssey
Ulysses began his Aegean odyssey from the city of Troy. Our Aegean odyssey began in Kalimaki Harbor near Athens, were our motley crew of shipmates met to set off on a two week sailing adventure in the Greek Islands. The group, made up in large part of fellow thespians from our Way Off Broadway Players included Jim and Sue Ricker, Larry and Joyce Buegler and Roy and Rosanna Bewick on our boat and Joe and Jane Warren, George and Pat Miser, Cliff and Deanna Wells and Terry and Mary Ann Henderson on the other boat. Six couples were WOBers. Bewicks and Bueglers are not. Six of the guys were 3Mers. Terry and Larry are not. Six or the guys are retired. Terry and I are not. Almost everyone had had some previous sailing experience.

The Crew of the Arianna At the Helm

Arianna. Our boat, the Arianna, was a 58 foot racing sloop, built in 1992 at a cost of $ 800,000 and designed for performance. It was custom built with a teakwood desk and beautifully trimmed throughout with a mahogany and wild cherry wood. The other boat, the Athena, was the same length, a foot wider, a little more spacious but not as graceful moving through the water. Both had four cabins each with its own bathroom nd shower plus a separate cabin for the skipper. Our skipper, Dimitri, was a 36 year old, good looking, somewhat taciturn Greek with better sailing skills than communication skills. Give the choice and situation, I'll take the good sailor every time. He apparently had other skills as well since, in the greater seafaring tradition, he had a girl in every port and on more than one occasion, we observed a charming young lady leaving his closet-sized cabin early in the morning and slipping off the ship.

A typical day started with a leisurely breakfast on board or outside at a local pastry shop, underway by ten, a swim and lunch in some protected harbor in early afternoon, into port by four, sightseeing and shipping until happy hour followed by dinner at a local taverna at eight or nine. We were often the first ones at dinner. The locals tend to have their dinners at nine or even later. Whether or not we sailed or motored depended on the wind conditions each day. We actually only had the sails up three of four times gut, in compensation, had fourteen uninterrupted days of sunshine and blue skies.

Our itinerary was centered in the Cyclades Islands, an archipelago in the southern Aegean sea. We dropped anchor at a total of eleven islands in our two week odyssey. Some were green, most were rocky and barren. Some were touristy, most were relatively "undiscovered". Each one had a charm of its own. A brief log of our travels follows:

Kea (Aug. 25). After a summary checkout of the boat, we left Kalimaki Harbor at mid-morning making a final stop along the mainland coast at Cape Sounion at the Temple of Poseidon to pay homage to the Greek God of the Sea for a safe and pleasant journey. (In retrospect, it obviously paid off.) We then left the mainland for our 18 mile cruise to the island of Kea arriving just after our sister ship and got our first lesson in island docking. To maximize the number of boats per foot of dock space and to facilitate getting off and on, the boats are moored stern-side-to within two stern lines to the dock and the anchor dropped six or seven boat lengths into the harbor. If there is no room left (as was the case in Kea) , you simply tie up to the boats already at anchor and walk across their decks to shore. At this point, I came to appreciate the skills involved in typing up and was happy that we'd chosen to hire a local skipper rather than sailing the boat ourselves.

We joined the other boat for a fresh fish dinner at a dockside taverna and celebrated Rosanna's birthday with a special cake.

Siros (Aug 26) The 45 mile cruise to Siros was one of our longer runs taking most of the day. We docked in late afternoon in a little yacht harbor at Finikus and took a local bus into the main town of Ermoupoli on the other side of the island for dinner. On all the islands we found the local buses to be a good way to explore the islands and meet the people.

Mikonos (Aug 27-28). Val and I had visited Mikonos with Jill and Rob thirty years ago when we lived in Italy and remembered it as a quiet, picturesque island with its white cube shaped houses, white domed churches, white washed streets and white sail-driven windmills. Unfortunately, with the advent of direct jet travel to Mikonos from the major capitals of Europe, it has been discovered if not overwhelmed by the tourists. We chose to anchor a Olmos Bay (a ten minute bus ride away) in a quiet anchorage and bused into town for dinner on the water front.

The next day we shifted our anchorage to Paradise Bay, a long sandy beach and swam to shore to spend the day in the sun. As Val and I swam in, a young couple rose naked on a rock and casually dove into the waters to swim to the beach . . . our introduction to the fact that we were swimming in a nude (optional, we presumed) beach. Later in the afternoon, Dimitri took us to a newly opened hotel overlooking the bay where his "fiancée" worked. (Dimitri seemed to have a fiancée in every port) for an ouzo and dip in their swimming pool followed by another late dinner in a small taverna near the beach. After our shipmates had retired and the moon had slipped behind a cloud, inspired by the time and place, Valerie and I slipped out of our suits and into the dark waters for a midnight swim. When in Greece . . .

Delos (Aug 29) The remains of ancient Delos lie only a few sea miles from Mikonos so we motored over for a tour of the archeological site there. Once the commercial and religious center of an ancient Aegean civilization and the alleged birthplace of Apollo, Delos is now an uninhabited island housing the magnificent 7th Century B.C. ruins of this once important city with its marble temples and statues, sacred lakes and avenue of lions.

Following a three hour, guided tour of the runs in the hot sun, we stopped for a swim off the boat. It was during this swim that Roy surfaced with a large piece of amphora, which was lying in 25 feet of water. It was exciting to examine and photograph this ancient piece of pottery created by a Mediterranean craftsman some 2500 years ago. It was even more exciting when an octopus squirmed out of the vase and slithered across the deck into the water.

Paros (Aug 29, 31) The famed late summer Meltremi winds had come up during the night so we raised our sails for the first time for an exhilarating, three hour (25 mile) sail from Mikonos to Paros. The waves were 4-6 feet high and the winds gusted to 25 knots so it was a good ride. After an afternoon swim in a sheltered cove, we docked in the harbor at Parikea. This busy waterfront town is packed with bars, restaurants, hotels ships and travel agencies . . . along with a 6th century Byzantine church and an archeological museum with an interesting collection of antique bits and pieces.

Santorini (Aug 30) With our limited time remaining, we chose to take an island ferry down to Santorini and leave the Areanna behind in Paros for two days. The ferry ride down was a comfortable, two-and-a-half hour non-stop trip. (The return the next day was a less comfortable five hour trip with stops in Ios and Naxos enroute).

Our first view of Thera village as we came around the end of Santorini island and into the volcanic crater (caldera) is a sight we'll never forget. Formed by the most violent eruption in recorded history, the crater was created when close to half of the island was blown into the sea in about 1500 B.C. creating a two-hundred foot high tidal wave, which destroyed much of the Minoan cities on the island of Crete seventy miles away. Some believe that Santorini may have been the origin of the legendary Lost City of Atlantis, which now lies at the bottom of the sea following this violent eruption thirty-five centuries ago.

We arranged for a guide to meet us early the next morning for a fascinating tour of the excavations at Akrotiri. The excavations were begun in 1967 by a Greek archeologist, who set out to prove that the destruction of Kin Minos' palace at Knossis and ultimately the Minoan civilization was a direct result of the volcanic eruption and Santorini. Like the runs at Pompeii, the Akrotiri excavations revealed much of the everyday lives of the five thousand people, who lived on Santorini at the time of the fateful eruption and whose homes and possessions were sealed in time for over 3500 years under twenty feet of volcanic ask. Unlike Pompeii though, there has been no attempt to reconstruct the city but simply to reveal it in place by a painstaking excavation process. Only three percent of the ancient city has been excavated thus fur with exciting new discovered occurring almost every month.

Sifnos (Sep 1) Having reached the furthest point of our itinerary, we began our return voyage with a day cruise to Sifnos where we anchored in the bay at Platis Yialos and went ashore in our Zodiac for a calimari dinner on the beach. The next morning we took a bus trip us a winding road to explore the village of Appallonia, a scenic village perched high on a hill with white buildings, flower-draped balconies, belfries and pretty squares and then on to the village of Kastro, the ancient capital of the island built on a rock outcrop with an almost sheer drop to the sea on three sides. We changed ports late in the day to the harbor town of Kamaris, where we joined the other group for a special 40th anniversary dinner that evening for George and Pat Miser.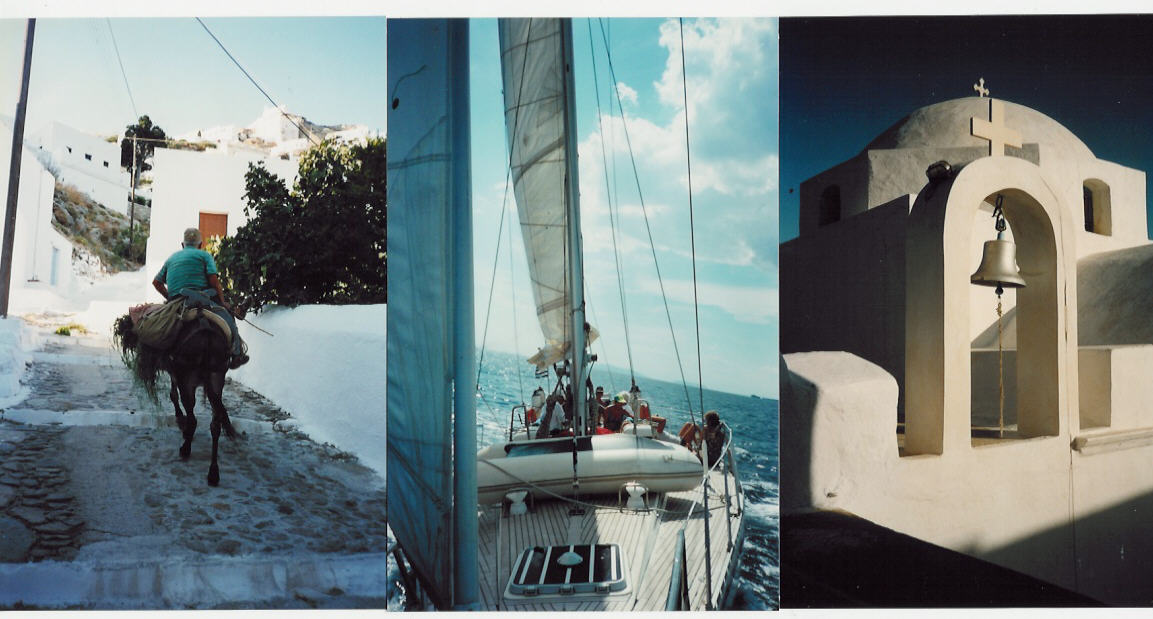 Serifos (Sep 2) The island of Serifos was a short, two hour cruise from Sifnos. Upon arrival in Livadni Bay, we again hoped a bus to the village of Hora teetering precariously above the harbor with its spectacular view of the harbor below. We passed up the return bus ride in favor of an hour's walk down the mountain to town. We learned that it was the island of Serifos to which Jason returned with the head of Medussa, which he pulled from his sack and turned his enemies into stone.
Kithnos (Sep 3) We proceeded under sail to Kithnos until a little squall forced us to drop the sails and motor the remaining distance to the island. We had bought some live lobsters from a fisherman at Serifos that morning and dropped anchor in a protected bay to boil up a great, late afternoon lobster dinner. We then motored along the rocky cliffs of the island to the port of Merihas arriving just as the sun was setting.
Hydra (Sep 4) We left Kithnos early for the seven hour crossing to Hydra, located in the Saronic Island chain. The port of Hydra, with its tiers of stone mansions and white-walled, red-tiled houses forms a perfect (and crowded) horseshoe harbor. Since there are no cars on the island, travel inland is limited to donkey so we stayed in town for dinner in a charming, garden restaurant.
Poros (Sep 5) We woke to a 25 knot winds and sailed out of the harbor to our final island stop at Poros, a small island separated from the Peloponnesus mainland by a narrow straight. We spent our final evening doing some last minute shopping and then gathered for a farewell dinner with the captain and crew in a harbor front restaurant.
We had spotted dolphins swimming at a distance on several occasions throughout the cruise but on our last day, a large dolphin swam alongside Valerie, who was sitting in her favorite perch on the bowsprit. Only a couple feet away, he rolled on his side, looked into Val's eyes for a brief but magic instant, smiled and then dove out of sight into the blue waters. Who knows . . . maybe to return to Atlantis ?!? Later that day, when Val stopped to buy a gold dolphin charm, the shop keeper told her that such a dolphin encounter was sure to bring good luck and happiness. It's hard to imagine how we could have been any luckier or happier to have taken such a wonderful odyssey.
We returned to port in Athens the next afternoon, where our shipmates all dispersed to their separate destinations, leaving Val and me alone for our final dinner on the roof top of our waterfront hotel watching the sun set over the harbor and the sea beyond. We flew out the next morning at the break of dawn . . . over the Arianna nestled in her berth in Kalimaki Harbor, over Val's dolphin somewhere under the black waters, past the golden Acropolis just picking up the first rays of the morning sun and headed home over the Atlantic. As Val looked won out of the airplane's window, she was still wearing her gold dolphin.