Europe (1995)

European Reunion

It was a fun filled, action packed tour of the capitals of Europe . . . divided between work, sightseeing and, best of all, visiting with some of our oldest and dearest friends along the way. As we remarked on more than one occasion many of our friendships date back thirty years or more to the time we we lived in Europe . . . and it's really special to have this opportunity to renew these old friendships and to get caught up on everyone's lives.

France. We arrived in Paris on Sunday noon, where MICHEL LUCAS greeted us and drove us directly to a town party in his little village on the Oise River, where MADELEINE was waiting along with a hundred or so villagers at a community barbeque complete with wine and dancing. They welcomed us into their groups and soon we were joined in the conversations and dancing. Great cure for jet lag. We went back to their home and joined their kids, GENEVIEVE, OLIVIER, his girl friend, MELANIE, and their ten month old baby girl. Michel has been retired about a year now and things are going pretty well for all of them. Madeleine has just completed a historical fiction book based on the lives of her ancestors' lives in French Canada in the early 1600's and hopes to have it published this year.

Michel left for the wine country on Monday and we went with Madeline into Paris to visit the Louvre, pay our respects to Venus de Milo and the Mona Lisa and get our first look at new and somewhat controversial glass pyramid entrance. I liked it. Since Madeleine was teaching ballet in the afternoon, we borrowed her car and drove to a nearby 15th century abbey and spent the afternoon exploring it.

The two-day, Polyester Manufacturer's convention in Nice involved a rather varied group of executives from around the world and turned out to be quite worthwhile. While I sat in the meetings, Mom walked all around the city and joined the group on the final evening for a dinner in St.Paul de Vence, a hill town high above Nice. We ended up playing bocce in the town square much to the amazement of the locals and to some of our Asian members, who weren't quite sure what was going on. Meanwhile, the big film festival was going on in nearby Cannes. We would have like to have gone . . but in way of modest compensation did fly down from Paris with Jerry Seinfeld's long legged buddy, Kramer. Looks as strange in person as he does on TV. He tried to engage Mom in a little conversation on the plane. "Are you waiting to get in the bathroom?" he asked. She looked up at him and replied with a smile, "Yes".

Italy. We rented a car in Nice and drove to Arenzano for the weekend. It was a beautiful day and reminded us once again of the spectacular scenery along the French and Italian Riviera. We exited the autostrada at Spotorno and drove up to our aging (1004 AD) castle at Noli (closed for repairs), by our first

Our First Italian Home, Spotorno Our Castle, Noli Our Second Italian Home, Arenzano

Italian home on Pineta and then dropped by to see if MARIO and AGNESE LOMBARDELLI were home. They were and, after recovering from their surprise, invited us in to share their lunch . . . spaghetti, home baked bread, cheese and home made wine. It doesn't get any better than that. Although Agnese still works, Mario is retired and it was really nice to see how comfortably off they are in the little home they built near where we lived surrounded by their garden and the pines. Mario said to reassure Rob that he no longer has to shoot sparrows to put food on the table. (When Rob stayed over at their house when he was five, he was shocked to open the refrigerator and find it full of piles of dead sparrows.) They pulled out our Christmas cards and must have the whole collection dating back to the early 70's.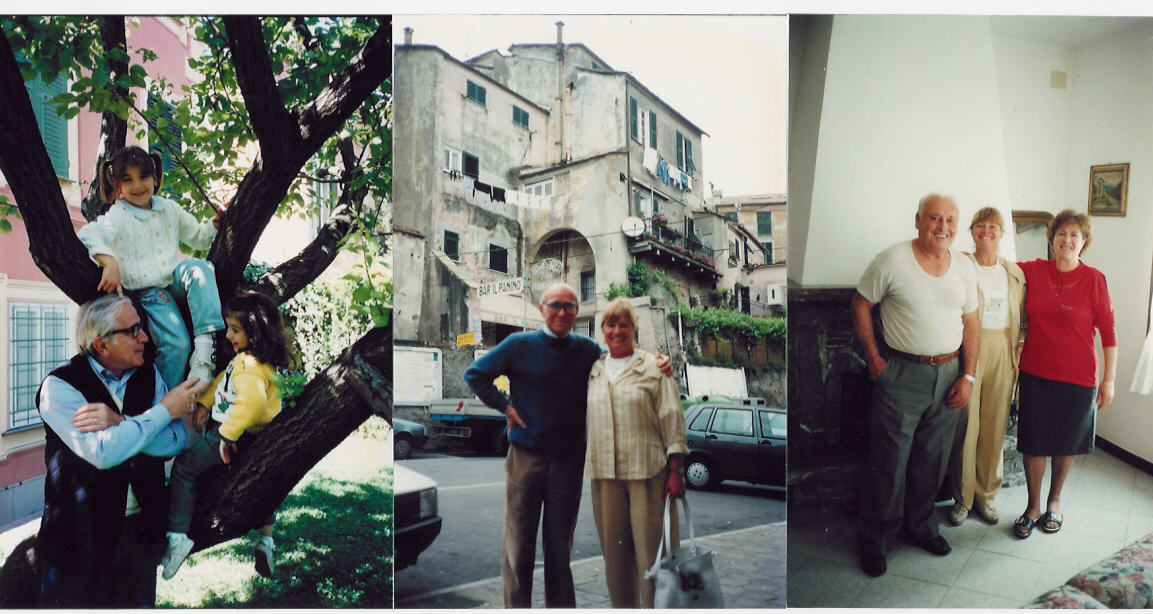 Gino Rossello and grandaughters, Laura and Illaria Dr. Gino Damonte Mario and Agnese Lombardelli
Then along the Via Aurelia to Arenzano where we checked into the completely redecorated, now four-star Grand Hotel and set out to wander the town. Within minutes, we'd run into DR. DAMONTE, who offered us a free, off-season stay in any of his several apartments when we retire . . . and then up the hill in Parco Figoli where we saw our old villa (our former landlord's daughter lives there now) and had a nice chat with MARIO CALCAGNO, where he reminisced about your visit a few years ago and then down to our old grocery, where PINO and PINA told us about the recent visit from Rob and Karm. And, of course, no visit to Arenzano would be complete without dinner at Parodi's . . gnocchi al pesto, risotto alla marinara and finished off with a Coppa Parodi. So once again, it seems that, at least in Arenzano, you can go home again!
On Saturday, we transferred to MARIO and SILVIA TAVELLA's arriving just in time to have lunch with ALBERTO, MARINA and their two charming daughters, FRANCESCA (9) and MICHELE (5) along with FLAVIO, who is two exams away from graduating. In the afternoon, we walked down the steps into Savona and visited the 14th Century fortress on the harbor, which has recently been opened to the public. Ran into a half dozen of my old buddies from Ferrania, who were there for an art exhibit, including the former personnel department supervisor, who is now sindaco (mayor) of Savona. We were given an autographed (by the mayor as well as the artist) copy of an art book in a very nice gesture. We had dinner that evening in a trattoria in the hills above Savona with Mario's brother, NINO, and wife and another Ferrania couple. Half way through dinner GINO, SANDRA and IGOR, having traced us down somehow, popped in and invited us to have dinner with them on Sunday. (By now, you have figured out that I'm capitalizing these names just to emphasize all the people we were able to see in our short, two week trip!)
Shortly after we arrived at the ROSSELLO'S, Igor's wife, FRANCESCA and their two daughters, LAURA (6) and ILLARIA (3) stopped by to greet us as did LUCA, who was down for the weekend from Milano. IGOR is a highly specialized (and highly paid) hand surgeon with a growing, national reputation and LUCA, is the administratore delegato for a small firm with offices in Milan and Paris . . and clearly in training to take over Gino's business in a couple years.
Over lunch at da Gianni's in Albissola, Gino, Sandra, Valerie and I talked about chartering a sailboat in the Greek Islands next summer.
The TAVELLA's picked Mom up in Albissola for their drive to Rome, where she spent the next three days discovering some new places (like the Roman ruins of the Capitoline, Aventine and Palatine hills) with Mario and Silvia. (There's still a lot to discover even after ten visits to Rome). She also had dinner with Silvia's sister, MARIU and her husband, ROCCO, with CECILIA (our Italian guest of a few summers ago) PERA and her family . . and with PAOLO and RITA and their sweet, little three year old, CELINE. Their big news is that they are flying to Russia to pick up their three month old adopted daughter named (would you believe?) VALERIA next week. Evidently, adoption is still very difficult in Italy so many Italians are adopting children in Russia. It is not inexpensive (over $ 12,000) and not without risk . . . but it's great that they are able and willing to do it.
England. Val and I met again again in Brussels, where I had spent a couple days at the 3M chemical plant, and took the crack Euro Star express train from Brussells to London in three hours . . . rushing silently through the French countryside at speeds up to 300 kms per hour (180 mph) and then down into the just opened railway tunnel. We thought about all our previous ferry rides and the more recent Hovercraft ride as we whooshed through the tunnel in only twenty minutes.
It's always great to be back in London. Like Rome, no matter how times you visit you can always discover something new. This time is was the Kew Gardens, the large, old botanical gardens along the Themes River and the War Museum, which was featuring a number of special exhibits and films commemorating the end of World War II. The most exciting were a Mosquito bomber mission (in a flight simulator) over France and a stay in a very realistic bomb shelter recreating the sights and sounds of the blitz. We also went back to Westminster Abbey to revisit the tombs of Livingston and Darwin, whose paths we had crossed this past year in our travels to Africa and the Galapagos. And, in a great bit of good timing, we were there to hear the boy's choir rehearsing for the evensong performance for the following day.
What's London without an evening at the theater? Or two? We were lucky to get tickets the first night for Andrew Lloyd Weber's "Sunset Boulevard", a musical version of the old Gloria Swanson movie . . . and half price tickets at Leicester Square the next day for Blood Brothers, where we watched this highly acclaimed musical from the very front row. There's something magic about the London theaters and it was great to be there.
On our final day in London, we took the Gatwick express out to the airport hotel, where JOHN and ANN stopped by for a tea and a chat. John is working night's so we weren't able to arrange a dinner but it was, as always, fun to see them if only for a couple hours. In the evening, PAT and RALPH JONES picked us up and drove us back to their home. It was my first chance to see their place and it really is going to be charming when they finish it . . . what one imagines an English country house to be. We walked together through the fields and over the styes to a great, old pub (the Price Albert) in Bletchingley, where we were joined by LIONEL and MARLENE SAXTY for an exceptionally fine dinner. As you might expect, much of the conversation focused on Jill and Trevor and their upcoming event in September.
We took Maddie for an early morning walk along the lake this morning just as the sun came up and reminded ourselves how very lucky we are to have such a wonderful part of the world to come home to . . . but, at the same time, to have so many great friends in other parts of the world with whom we continue to feel so close despite the distances. Actually, with these seven hour jet rides and the 180 mph trains, Europe is really not that far away after all . . and I'm sure we'll be going back again in the not too distant future.