Canterbury, England (1999)

Concert in the Cathedral A week in Canterbury with the Berkshire Choral Festival program was the principal reason for our trip but the timing combined nicely with a weekend wedding in Italy at the beginning of the trip and a stopover in Iceland on the way home.

Canterbury. Our week in Canterbury turned out to be a wonderful experience both musically and as a travel destination.. The choral group of about 180 singers came largely from U.S. and the U.K but included representation from other European countries and as far away as Japan. The quality of the singers was remarkably good considering the diversity of musical backgrounds and the lack of any formal audition process. We were directed by Nicholas Cleobury, a well known British conductor . We rehearsed for two hours every morning and two hours again every evening every day and by the end of the week we were pretty well ready for our Saturday evening performance. The music was The Kingdom, an oratorio by Sir Edward Elgar, one of Britain's pre-eminent composers. It may not become one of our all-time favorites but it was a new and challenging work for us and seemed right to be performing the work of a British composer in that setting.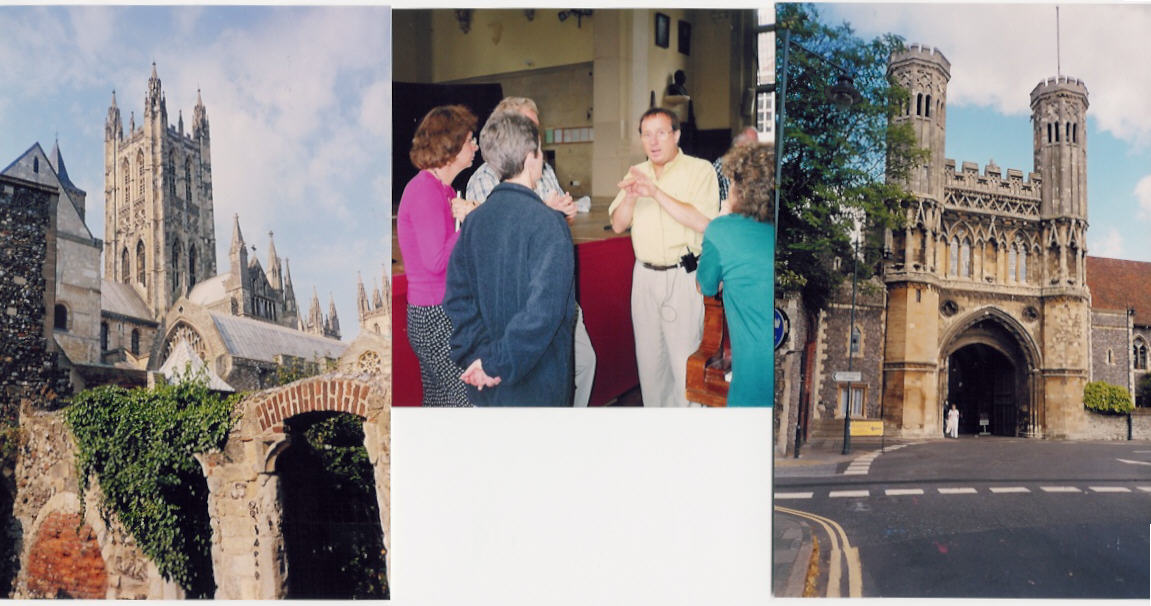 Canterbury Cathedral Nicholas Cleobury and "Creation" Soloists St. Augustine Abbey
We lived in a dormitory of the King's School, a boy's school founded in 1432 by Henry VIII near the ruins of the 6th century abbey of St. Augustine and spent our days inside the cathedral grounds , where we took our meals and rehearsed in the shadow of the great Canterbury cathedral, amidst the historic buildings, cloisters and magnificent gardens of the cathedral precinct.
We used out free afternoons to explore the town of Canterbury, to visit Rochester with its famous cathedral and castle and to drive over to Dover to see its great castle and try to spot a bluebird over the white cliffs. We also toured some fascinating tunnels in the cliffs from which the evacuation of the British expeditionary force from Dunkerque was coordinated in 1940.
The Saturday night concert was performed in the great cathedral, certainly the most magnificent setting for a concert in which we have ever sung. It was hard to keep our focus on the music in the awe-inspiring grandeur of this historic church but all-in-all it was a successful concert. We were particularly pleased that our English rellys (Pat and Ralph Jones , John and Ann Underwood and Ann's brother, Archie, and his wife, Debbie) were able to drive out for the concert.
John and Ann joined us the next day in Hastings, where Val and John had a wonderful day together - lots of laughs and a few tears - rediscovering some of the familiar places in the town where they lived in 1947 for a year shortly after the end of World War II. Discoveries included Val's home at 44 Cambridge Avenue, the neighborhood Anglican church, her old St. Mary's grade school, their grandma's favorite pub and even her grandparent's (John and Ada Underwood) grave site. It was fun for Val to have this chance to revisit the scenes of her youth and to relive the year she spent in England visiting her grandmother when she was a young girl of thirteen.
We spent our last few days roaming around the Sussex country side with visits to Lewes, Chartwell (Churchill's home) and overnight stays in two beautiful old manor houses in Battle and Cuckfield. Our final night was at Pat and Ralph's home in Bletchingly, where we had "sundowners" with their friendly neighbors and then walked across the cow pastures to a local pub for dinner.
Wedding in Bologna. We spent our first weekend in Europe near Bologna for the wedding of Tom Birkeland and his new, Italian bride, Romina. With Bologna considered by many as the gastronomic center of Italy, we knew we were in for some fine dining. The first night's groom's dinner was a wonderful, ten course dinner in a country restaurant owned by Luciano Pavarotti which gave the two families (and the overseas guests) a chance to get to know each other before the wedding. The wedding on Saturday, was held in a 16th century church up in the neighboring hills. It was followed by another memorable dinner at a nearby country club. Since there was a rather formidable language gap between the bride's and the groom's families, Valerie and I were called to perform interpreter duties for much of the weekend.
Iceland. Our second "side trip" was a one-day layover in Iceland on the way back to the states to visit Hanna Johannsdottr, an old friend from our Navy days. We had visited Hanna in Iceland only once before in 1965 enroute to our first overseas assignment in Italy but had stayed in touch through the years through letters and visits in Italy and the U.S. It was fun to see her again along with her daughter, Kata, and son, Bobby and some of her grandkids. It was a pleasant reminder of what a beautiful country Iceland is and we're already planning to return for a longer stay.